11.04.03
tosh come! for baby wash come!
(UR: bärte / beards)

One has struggled through. Greater. Stronger.
10 000 meters under the earth: Hot was it, sandy was it and also grow dark.

This one pinched himself tightly when the Stromboli broke out!

When the extraterrestrial ones had ash and smoke shot in cooperation with the news agency Reuters from the crater on our observation webcam. 500 meters high!

(As well as verse cruise ends supplement see report on volcano at meal, 04.04.03 for too extraterrestrial trick, 06.04.03)

This one pinched himself tightly. Disappeared to the opposite direction. Downward. One of 86 400 in the month. One. Lasted eastward. Always the rising sun after. He didn't see this one. This one didn't see him. No-one thought of him. No-one. To this one unite of 86 400 in the month. I also not.

Till I see him again today a week later. Oh baby. On the reason of the Kakita Rivers. Largest Spring in Asia! I see his arm, his head, his upper part of the body. See how it pushes, from the mud burrows, forms itself.

Jemineh! Holding breath, swelling baking?

Or loosely weiterkippeln?

He stands for minutes. Rapid shape. I clap. He disintegrates. The great, strong. Only around push, root at once towards the new one form ....

The tourists call over water: Look! Look! Jump Hot. Jump Hot.

Proofs, Savadee?

No-one! Absolute no-one!

But the probability is full at my side.

And he makes it, Mikkel, sometime.

Look! Look! want to the tourists call.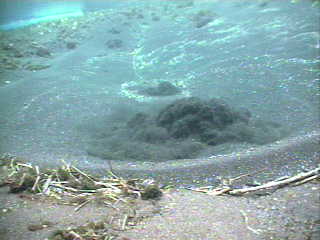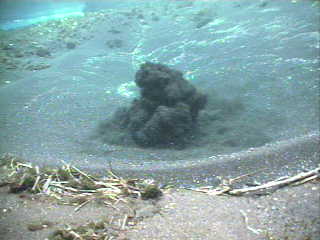 Look! Look! Kakita River, Viewed: 1 am - 11 am. (lighting is not good for the ecology)

Translated by Linguatec
posted by muji @ 13:13:03
Comments (2)