08.05.03
call it a day
(UR: gelände / areas)

It was there first, it was then ungeschärft, something completely different was there and now then it again: One intersection in this nowhere. Seem Spanish to me, Central American. Where one so hot food usually eats anyway. I immortalize her in ours lied, then cannot disappear she any more now.

It informs about a day. It mentions a ghost train. It mentions magical realism. Start with my layer in the dawn; exact: colorless. The ghosts dart in the quitting time, pale white women and pale white men and pale white sometimes one vehicle. Puts off an incorrect cone of light, tenpin bowling for Itzamná, master of the darkness, the day and the sky. Say the Maya for 13 with 13 gods each into this. 13 heavens and this the undermost standard. It mentions earth.

Today, Kukulkán, the feathered snake, god of the winch, therefore wheezes as a bus. S gets colored breathed out once deeply??! And sungod spits gold lead seals for Ahau for the altos (one ascribes the invention of the document to it) in the square, again since schimmerts, dämmerts golden, oh so early already?

I wish I want, pixelipix, for Ix-Chel, patron my, for goddess of the web substance and the flood, three times for the heels, each other beaten: it already stands a recovery vehicle for pixelipix there, lightning blue, and once again: they crawl again there, the beetles. Bilious green and fiery red. And pix-pix, the flat roof angestrahlt. Times of the revolution squat the Sniper to it here. And pix-peng: A yellow school bus run aground. They roll one hundred big kids from his belly, save themselves on the traffic island, drive with teacher of this after a while.

If it informs about a morning or chance, it informs about afternoon and accident later. This one with the recovery vehicle gets what to work. Wonder where the horses are, if she mentions cowboys, the people with the hats. Ask what is in it, if it mentions a cupboard, the thing on the cart. It mentions rotten technology and asks why the upper parts of the body are faster than the legs. It mentions appearances to which the legs belong or I know gods or minds or devil or what as, or simply only 'these on the earth'.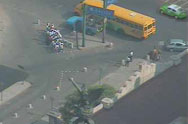 Source: Detalle de accesos. Best viewed: 1.30 pm – ca. 4 am. Not always a crossway ...
Translated by Linguatec
posted by savadee @ 00:17:12
Comments (1)